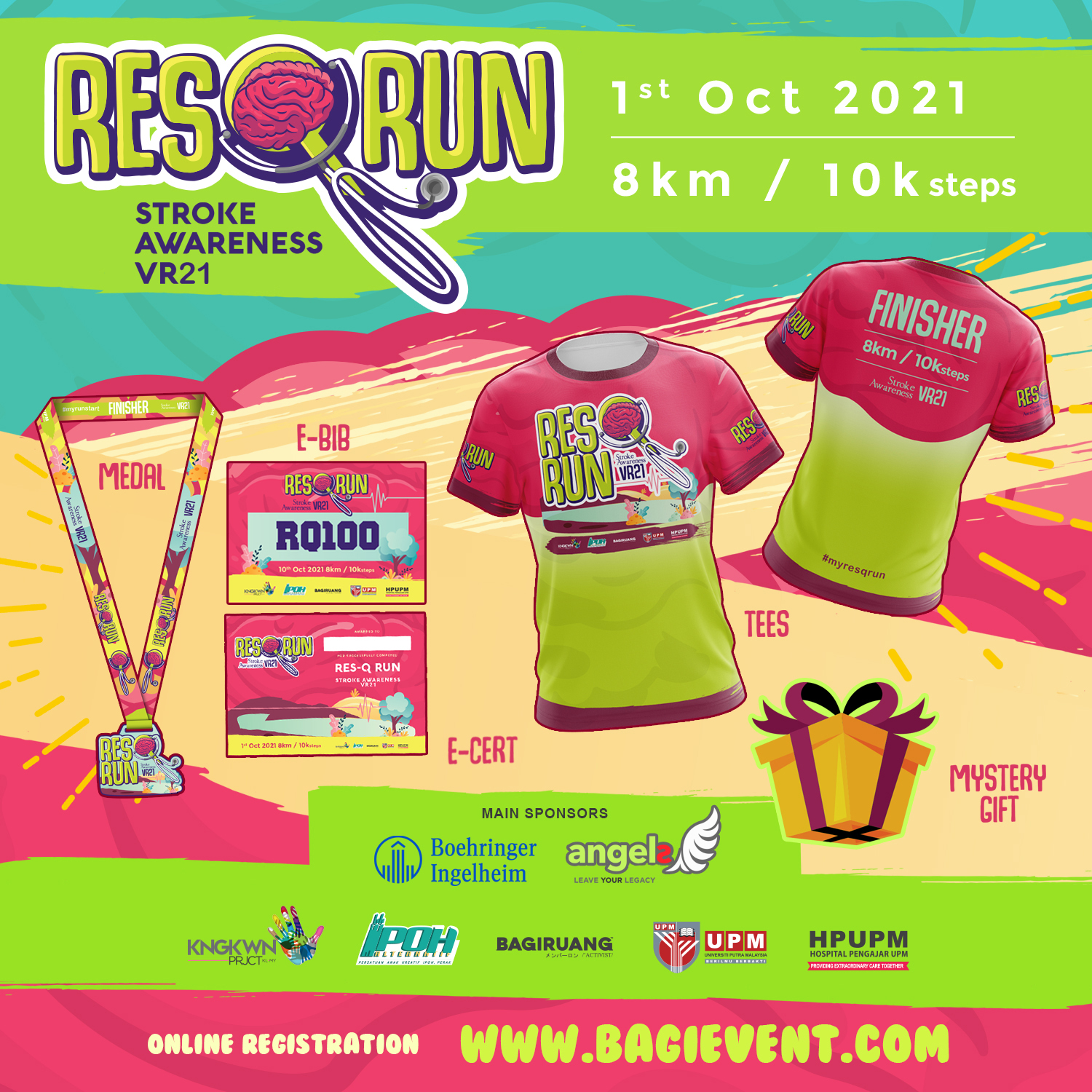 RES-Q VIRTUAL RUN 2021
120
120 people viewed this event.
STROKE AWARENESS VIRTUAL RUN 2021
DISTANCE : 8KM / 10,000 Steps
REGISTRATION :Closed
RUN PERIOD : 1 Oct until 10 Oct 2021
SUBMISSION RESULT : Until 15 Oct 2021
PRICE : RM60

Terima Kasih kepada semua peserta :
Thank you to all participants :
Pihak kami ingin memohon maaf kerana terpaksa menunda tarikh mula pos kepada 8 November 2021 dan pengambilan pada tarikh selepas itu. Hal ini berikutan kelewatan pihak penyedia tshirt larian (Ultron Malaysia) membuat penghataran pesanan kepada kami.
We would like to apologize for having to postpone the postage start date to November 8, 2021 and the collection (Local Pickup) on a later date. This is due to the delay by the running tshirt provider (Ultron Malaysia) in delivering the order to us.
Penghantaran Kit Larian (Postage)/
Delivery of Running Kit
Bermula 1 November 2021 8 November 2021
Start on 1 November 2021 8 November 2021
Pengambilan Kit Larian (Local pickup)/
Pick up point
Ipoh
Location : Bagiruang, Fair Park, Ipoh.
Date : 16 November 2021
Time : 11am until 4pm

HPUPM
Location : Hospital Pengajar UPM, Serdang Selangor
Date : After 8 November 2021 (To Be Confirm Later)
Time: TBC